Hello, It's time to set our sights on relaxing, entertaining, and enjoying our outdoor spaces. Hmm, perhaps your thinking these spaces with decorative and functional elements can get expensive. Well let me tell you…they don't have to be. If your watching your wallet, then instead of heading over to the home goods store, take a U-turn into your nearest dollar or thrift store to find some of these treasures that you can cleverly, creatively, and incredibly cheap projects that are sure to give your outdoor retreat the sprucing up it needs.
Outdoor Lighting
Amazingly enough, this farmhouse-inspired light fixture comes together from a wastebasket from the dollar store, a light kit, and a bulb. Use wire cutters to cut a circle out of the base of the basket that's large enough for the socket to fit through. Then, thread the socket through the hole, screw in the bulb, and hang for a rustic effect.
Rustic Rope Pots
Flowerpots instantly add charm to any backyard, and these rope-wrapped versions are no exception. They are, however, an exception to the high price tag that can come along with similar store-bought versions. For an inexpensive run-around, simply pick up a few terra cotta pots at your local thrift store, and—starting at the top and working your way down—glue rope around the outsides. Use paint to apply a decorative stripe at the bottom, or display with only the rope for a quick way to spruce up your outdoor space.
Whimsical Welcome Mat
This colorful project is the perfect way to use up leftover paint while also improving your outdoor spaces. Pick up a standard doormat for next to nothing at a thrift store or dollar store, and then use paint to craft a cheery message for family and friends to enjoy.
Tea Light Lanterns
All you need is some empty jars, a few pieces of wire, and some tea lights are all that's required of this charming outdoor DIY. After fashioning a handle from wire, simply drop a candle into the jar, and attach to your porch or balcony railing with a another piece of wire. You'll love how the finished product adds an elegant touch that makes your great outdoors even greater.
Pretty Spoon Plant Stake Markers
While plant markers make for functional garden accessories, they can also be attractive ones, too. These versions can be made for practically nothing, as all you need are inexpensive wooden spoons from a budget store. While this blogger used a soldering iron to etch in her veggies' names, you could just as easily get by with paint or a thin permanent marker pen.
Tea Pot Holder
This pretty bird oasis for the backyard inexpensively comes together with only a few found pieces of dishware, glue, and spray paint. To start your topsy-turvy design, choose a sturdy bowl for the base and then build upward, gluing the pieces together as you go and completing the project with a large platter for the top. Once the glue has had time to set, cover with a few coats of spray paint for a charming and whimsical finish.
Personalized PlaceMats
Aren't these pretty! Place mats are a must for outdoor dining, as they add a colorful touch and make quick work of cleanup. Skip on costly fabric versions and craft your own from a surprising find in the kitchen aisle of the dollar store: clear, plastic chopping mats that are ripe for a decorative stamp. Pick up a few packs, outfit the backs with festive cutouts, and attach using a sealer like Mod Podge for a cheap, clever, and washable way to cover tables.
A Simple Sconce
If you're in the market for some new outdoor lighting for your deck or patio, look no further than this industrial fixture that's made from only humble dollar store materials. A clay pot serves as the shade, while an outdoor LED light and a chain removed from an inexpensive plaque combine to form the light source. The best part? You can make these from just about any container that catches your eye, including woven baskets, plastic pots, and more.
Gazing Globes/Balls
Gazing globes are an easy way to add an element of color to your garden, however the store-bought versions can be a little pricey. Fashion your own from Smoothfoam balls, paint, hot glue, and mosaic pebbles from the dollar store. Start by brushing the Smoothfoam with paint that matches your pebbles, and then use hot glue to attach the glass stones around the entirety of the ball. Display amongst your flowers for a fun and glitzy finish.
You could use an bowling ball or even a plastic or glass globe placed upside down too.
Dripping Planters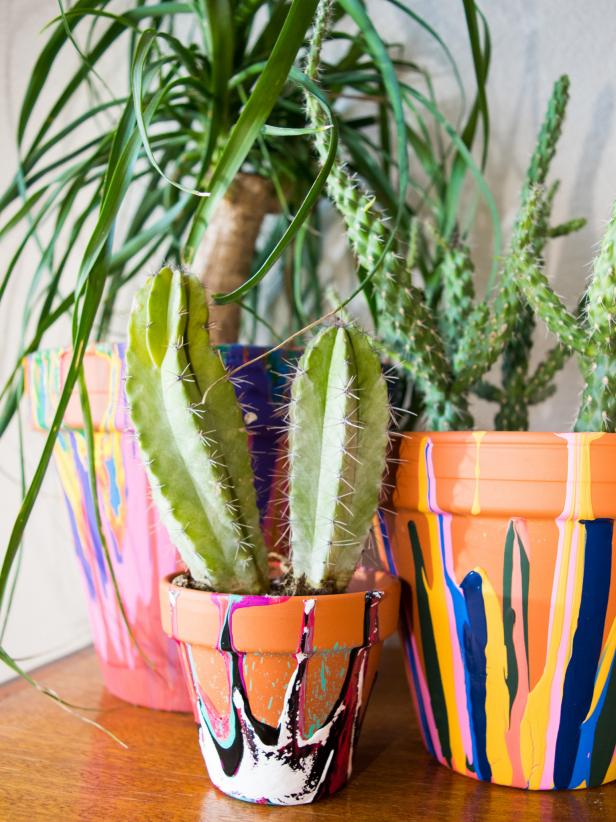 You can easily achieve this look. In fact wouldn't it be a great fun project for kids! you can purchase plastic/ clay pots at the dollar store and make these too! Paint drips never looked so good!