Pool Noodles are not just for the pool. So many clever hacks can be done with these. The best part is they are large for a project and they are only $1. So get to your local Dollar Store, or go online and have it shipped to your local store for free. Just grab some noodles because you're going to find these projects amazing!!!
Say you want to put something on the top of your new SUV, but want to protect it. Slit two noodles in half and tape them on. The cushioning keeps the item from scratching, denting, and keeps the item from rattling. You still need to tie the item down, but this idea will protect your car.
Here's a simple way to cover trampoline springs to guard against pinched fingers. Cut a pool noodle into short sections, slice lengthwise and slide them over the springs. You child will be so much safer with this idea.
Okay, this next one is what I use in my garage to keep the trunk from hitting the garage door.
When you open the liftgate of your van, car, or SUV, it's easy to hit a cross brace of the garage door and chip the paint on the gate. Protect it by using a swim noodle as a cushion. Just slit the swim noodle with a utility knife and slip it over the brace. You can also use pre-slit foam pipe insulation. If it slips off, use double-face tape to hold it in place. – Mary Sprang
My doggies would be scared to death if I tried this one. But if you have a doggie that loves the water and isn't 'scared little babies', this would be awesome for them. I had a cocker spaniel that loved the water. I remember putting her on a raft in the pool. This is less worry over the raft popping.
Pool Float
Just tie these pool noodles together for a fun water raft that won't deflate! You'll need five large pool noodles (4-1/2″ diameter ), 2 medium-sized noodles (2-1/4″ diameter), 6 ft of 1/2 " PVC pipe, 36 feet of nylon cord. To begin, lash the five large noodles together using a double half-hitch knot. Next place the cord in between and around each of the noodles, securing them together into a raft. When you get to the noodle on the end, turn around and lace them again back to the beginning. End with another double half-hitch knot. Cut the cord close to the knot. Now cut the smaller noodles to get three lengths equal to the width of the raft. Thread three PVC pipes through the holes in the three smaller noodles, then thread the cord through the PVC and use nylon cord to attach each short noodle to the large noodles. Tie one noodle at each end and one in the middle to increase stability and make the raft more rigid.
Living in the desert I don't have this problem, but I know some of you do!
Each year I mark the boundaries of my yard so the snowplow driver doesn't damage my lawn. For years I used rebar along the perimeter, but the driver couldn't see it at night. Even with reflectors on the rebar, it would still get hit, bent or broken. Now I've found a better solution. I slip a brightly colored swim noodle over the rebar. You can't miss the markers now. – Bill Remia
This next one is a idea I use to protect my legs on a ladder. My steps on my ladder aren't round as this picture shows. What I do is place it on the same way as below but, I use duct tape to keep the noodle on.
I spent a lot of time on my 
ladder painting, hanging lights
, etc. Leaning against the steps all day takes a toll on my shins and thighs. Then I got smart and slit pieces of some pool noodles lengthwise and wrapped them around the front of the steps. Instant relief! The cushions are easy to move as you work. Just make sure you never stand on them, and always place them higher than you'll step since they can create an uneven step or fall off if you step on them.
Keep your Boots at Attention!
This is such a fabulous way to keep your boots from flopping over when not using. Just stick a pool noodle in the boot, and they will stand at attention!
This next one is a fabulous idea. Don't you hate it when you take a pair of slacks out of the closet off the hanger and there is a crease?
Just measure, cut and wrap around the hanger. Not only does it keep from creasing, but your pants won't roll off the hanger.
This next one is great for mowing the lawn!
Dislike mowing the lawn because the vibration? If you suffer with arthritis in your hands? This eases the vibration and is so much more comfortable.
 My garage is full of tools, boxes and bins filled with Holiday Decorations. Some days it is a trick to just squeeze my car in, and I got tired of banging my car door on the wall every time I opened it. I attached half a pool noodle to the wall as a bumper and now I can get out of the car without fear of dinging the garage wall or my car door. Is this not a awesome idea!
Keep your watercolor brushes dry and handy! Cut a short section of pool noodle, slice it part of the way through and insert brushes.
Use a pool noodle for a wreath form. Fasten the noodle with duct tape, then wrap it with fabric, ribbon or string. Wrap wire around the stems of fabric flowers and poke it through the fabric to anchor it into the noodle. Hang the wreath using wire or a picture hook.
Attach a pool noodle to the sides of your pets…such a pleasant headrest!
You can purchase these tea lights at the Dollar Tree when you pick up the noodles.
Look at all these fun decorations you can make for the holidays with pool noodles.
Now…just in case you have never tried to cut a pool noodle, here is a easy way to do so.
How to slice a noodle: Use a serrated knife to cut the noodle into sections.
Use a box cutter to slice the noodle:
I hope I have given you some awesome ideas using pool noodles. You can find these at the Dollar Tree Think of all the neat things you can do with a pool noodle….got any ideas of your own???Love to hear them!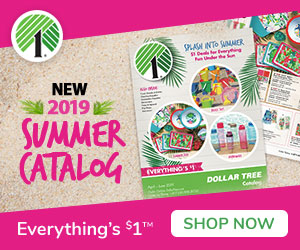 Check out the Summer Catalog. You can order online and have everything shipped to your nearest store for free.