Hi there, hope your having a great day!
I kinda decked out the frogs, and they look cool.
I wanted to make a faux pond for them. . I had it all set up in the rose garden, but I couldn't see it from the house the way it was situated. So back to the drawing board. Now in the meantime while I was trying to figure out a place for it, I painted a pallet in blue colors…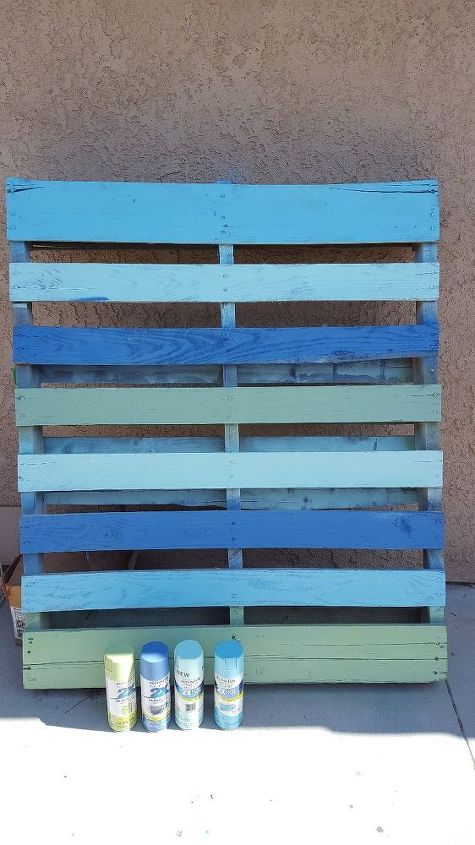 I love those colors! So beachy! I was going to make it a herb planter. But then a idea struck! Since the frogs were ready, I could make this a neat backdrop for them. Then I thought of making it a billboard with their stage names on it. I made the letters with the glass gems from the dollar store.
I remember seeing a sign in the dog section at a store, that I loved. It said' Sandy Paws and Salty Kisses'. It reminds me of the beach and my doggies…so that's their names. LOL
Next week I am having a pool put in. I want the frogs by one area of the pool…this will look so cute by it, and warms up a corner. I decided to put it up temporary to see how it looked. I had added a net, shells, pearls, starfish and seahorses
.$3….I racked away the small stones, and cut a oval shape, kinda. I added some gems to the pond…some rocks, Frog King, etc.
Lots of fans!
This is how it will sit for the next couple of weeks. I did put a solar spotlight on it for nighttime performances. It is positioned so when your sitting under the pergola, it's like they are performing for you! Imagination sparks creativity!
The colors I used on the pallet are:
Wildflower Blue